Our building - Utah Sleep and Pulmonary Specialists.
Our address 9103 South 1300 West #103; We're just south of the car wash!
A sleep study technician will meet your child and you at the door.
The technician will perform the "hook up" and take care of your child all night long.
Just like a hotel!! A bed for your child and one for you.
Each room has its own bathroom.
There is also a bathroom next to the kitchen with a shower


Time to put PJ's on. We encourage children to bring
a special pillow (you too!)
or a stuffed animal to sleep with, if they'd like.
These monitors will be gently placed on your child's skin. They do not hurt.
If your child has difficulty tolerating certain things, the technician will wait
until he/she falls to sleep before re-placing important leads.


To help distract your child while the leads are placed, he/she can watch a movie
(we have several, but please feel free to bring your child's favorite).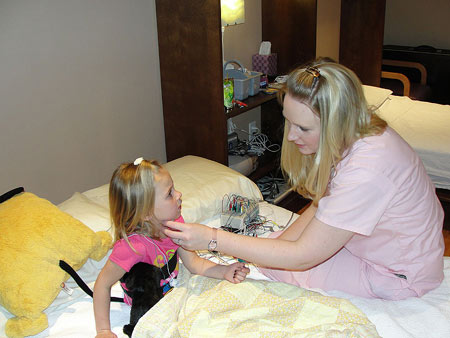 These leads help us know when your child is asleep or awake.
These monitors detect airflow through the mouth and nose –
one of the ways to measure how your child breathes during sleep.
These monitors measure chest and abdomen movement -
further information measuring how your child breathes during sleep.
These leads detect leg movement during wakefulness and sleep.
They can help determine if your child has restless legs
or periodic limb movements.
All "hooked" up! Time to relax – maybe your child would like a nighttime snack.
The kitchen is conveniently down the hall and has a refrigerator and microwave.
Feel free to bring something special from home.
A little snack and then ready for sleep
The technician watches your child's EEG waves, airflow, chest/abdomen movement, leg movements, C02 levels and oxygen saturations throughout the night. The infrared camera in the sleep room also allows the technician to watch your child's behavior as he/she sleeps.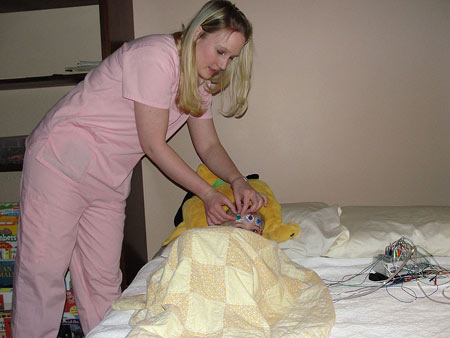 The technician may need to enter the sleep room quietly throughout the night
to reattach a lead if it becomes loose, or otherwise make necessary adjustments.
Our goal is to get the most information we can during your child's sleep period.
Morning!! Time to remove all the monitors
Breakfast snacks such a Nutri-Grain granola bars, yogurt,
instant oatmeal and juice/water coffee are available in the kitchen.